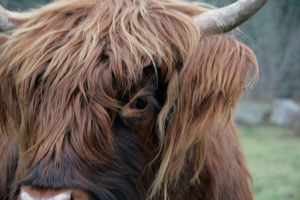 Currently, we have over forty animals in our herd – cows, two-year olds, yearlings, calves, and, of course, a bull.  We welcomed eleven calves in 2019, all of whom have names that start with the letter "J"!
Our herd is grazed exclusively on grass and other forage, augmented only by hay in the winter. We do not use any antibiotics or hormones. The cattle are given free access to OMRI certified organic mineral salt and kelp. We rotate the herd at least twice a week, making best use of our 30 acres of pasture, and, when possible in the fall, graze them on our 40 acres of hay fields. As a result, the cattle always have access to the most succulent and nutritious grass, and their manure is distributed throughout the fields as fertilizer. Manure and bedding that accumulates in the winter in their run-in shed is composted and then spread back on the fields, so as to maintain the soil's fertility.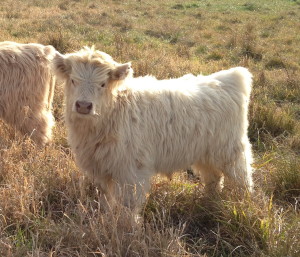 As a result of these practices, we are very proud that our beef cattle have been certified both as humanely raised by Animal Welfare Approved (AWA) and as Certified Grassfed by A Greener World (AGW)! The AWA program audits and certifies that family farms are raising their animals humanely, outdoors on pasture. This certification declares that our animals are being raised and slaughtered in accordance with the AWA requirements, which the World Society for the Protection of Animals has called the "most stringent" animal welfare standards in the US. Annual audits by experts in the field cover birth to slaughter, inspecting both the farm and the slaughterhouse.  The Certified Grassfed designation is conducted by AWA on behalf of AGW, and declares that our animals are raised on a 100% grass and forage diet, raised outdoors on pasture or range, and managed according to the highest welfare and environmental standards on an independent family farm.
We are very excited about these certifications; the AWA and AGW Programs alert us to the best practices in livestock raising, as well as assuring you that our animals are being raised to the highest standard of animal welfare. To learn more about the AWA, please visit their website!
For more information, contact info@kinnebrookfarm.com.